Perm Cheapest Fares
To search and book flights to Perm in 2021 and 2022, please enter your requirements and click the search button above.
Make Perm, Russia your next unique destination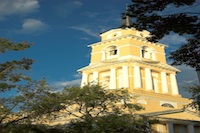 If you are planning on something different this year, make Perm Russia your next destination choice. This beautiful city is the most eastern of all the European cities with its province often referred to as Eurasia.
Formally known as Molotov after Stalin's rule, Perm is the second largest city in the Urals and is the sixth largest city in Russia and the capital of the region of Permsky Krai. The province lies in the heart of the Ural Mountains and stretches along the Kama River, which is Europe's fourth longest.
The area brings with it some extraordinary history as it dates back 290 – 245 million years ago, which is when the Ural Mountain Range was formed, however, many of the landmarks in the city itself date back to the 16th century. The city is also known for its military production of artillery, canons, rocket vehicles, and MiG jetfighters that were all produced in Perm and were well hidden by the Ural Mountains.
Nowadays, the local attractions of this magnificent destination include the Perm Art Gallery, the Chaikovsky Opera and Ballet Theatre Perm, Russian Academy of Theatre Art and Institute for Culture and Art, and Khokhlovka, which is the open-air museum of Wooden Architecture and Ethnography.
The largest annual celebration to take place in Perm each year is the city's birthday on June 12th. This highly celebrated day is filled with concerts, traditional food, cultural dances, and street parades that end with an explosion of fireworks.