Samara Cheapest Fares
To search and book flights to Samara in 2021 and 2022, please enter your requirements and click the search button above.
The 12 sights of Samara, Russia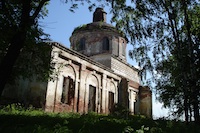 Samara, Russian Federation is the perfect summer holiday destination for sun, sand, and cathedrals for anyone wishing to travel to Russia. Samara lies on the Volga. This is used by locals and travellers as a cooling off area during hot days. Anyone who enjoys history more than beach bathing can enjoy the countless sights and activities of Samara.
Samara is most notable for its location on the Volga River; however, it also has a great deal of heritage displayed in museums, cathedrals, and other historic sites. The first stop for a UK traveller is typically Stalin's Bunker. It is nine stories below the earth, located at the Academy of Culture and Art. The purpose of the bunker was to allow Stalin to direct events in safety, but he stayed in Moscow, never using it. Today, it is the most popular tourist attraction during the summers and is often booked in advance by cruise companies. It is imperative to arrange for your visit in advance.
The Samara Art Museum displays Russian art works by local artists of the past and other prominent Russians. Boyarishina is a famous painting at the museum, donated by a local doctor who obtained it when he helped the artist when he was ill. The museum also has a Malevich collection of artefacts.
The Lutheran Church, Pokrovsky Cathedral, Synagogue, Catholic Church, and Iversky Women's Monastery are perfect for a bit of a pilgrimage.