Kazan Cheapest Fares
To search and book flights to Kazan in 2021 and 2022, please enter your requirements and click the search button above.
Kazan gears up for exciting Sporting Events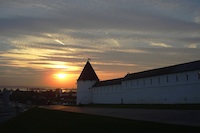 Exciting times are ahead for the city of Kazan in the Russian Federation, as it prepares to play a part in hosting a number of international sporting events. It is set to be a venue not only for the 2013 Summer Universiade , but also for the 2018 FIFA World Cup.
These events are expected to bring an enormous number of visitors to the thousand year old city, and will have a positive effect on its regeneration and status as a tourist destination. Plans are already in place to vastly improve the city's infrastructure in preparation for the influx, and many new hotels are to be built to cater to the increased market. The advantageous changes that these improvements will bring to all visitors make this a great time to visit.
International visitors who are hoping to watch these sporting events are advised to book their flights and accommodation early, as demand will be high. The city is easily reached by air links from many major Russian cities, from where it is easy to make connections worldwide. There are also direct flights to Germany, Turkey, the Czech Republic and Egypt from the Kazan airport.
The Summer Universiade and FIFA World Cup will bring with them a number of benefits for tourists to the area, raising the city's profile and making it better known on the worldwide stage. This is the perfect time to visit and share in the excitement as preparations get underway.