Volgograd Cheapest Fares
To search and book flights to Volgograd in 2021 and 2022, please enter your requirements and click the search button above.
Catch a Cruise on the Volga River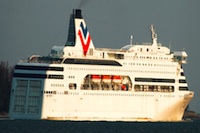 Volgograd is a premier destination in Russia for visitors who are looking to take a world-class cruise on the stunning Volga River. As one of the gateway cities for the Russian cruise industry, the city of Volgograd is mired in history and unique Russian culture. Visitors who come to this modern urban area to board the cruise ships that will bring them on a tour of this vast country are encouraged to take some time to absorb the city's ambiance.
None of Volgograd's ancient buildings and attractions still stand here as a result of the devastation that the city suffered during World War II. It was completely rebuilt following the historic Battle of Stalingrad, but the area is filled with reminders of the courage of fallen Russian soldiers, making it a unique mix of a modern cityscape and a memorial to the ghosts of Russia's past.
The Volga River provides some of the most awe-inspiring views for passengers on board the famous Russian cruise liners. The scenery in Volgograd is extremely impressive and blends together the new and old worlds seamlessly. This is a perfect location for anyone who has a strong interest in history because of the endless amount of monuments and landmarks dedicated to a tragic time in Russia's past; however, it also proves how the human spirit can overcome adversity. The city offers all of the modern amenities and entertainments that a visitor could want.
Daily flights to Volgograd are available throughout the year, whilst cruises leave from the city during all seasons.