Khabarovsk Cheapest Fares
To search and book flights to Khabarovsk in 2021 and 2022, please enter your requirements and click the search button above.
Khabarovsk: A Russian City With an Asian Ambiance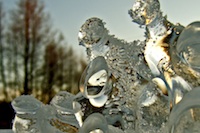 Khabarovsk borders the People's Republic of China. The city offers a cosmopolitan, truly international experience, and is a model city in Russia. The confluence of cultures and comfortable living has allowed the city to grow into a world class tourist destination. Each year, the city hosts the Ice Fantasy Festival, one of the largest ice carving events in Russia.
Every year in early January, when the snow is still on the ground, the city of Khabarovsk comes alive with colour and excitement as professional ice carvers converge on the city to compete in the ice carving competitions held as part of the Ice Fantasy Festival. During the Ice Fantasy Festival, hotels get busy and finding reservations may not be easy, so it is advised to book accommodation well in advance.
Vyborgskaya Street is home to the unique shopping experience that can be had in Khabarovsk, and in the summer a relaxing stroll on the city's beach is popular with both adults and children. The city's cafe culture runs strong and the city is home to many charming Russian restaurants which serve borsch, fish and caviar while the strains of Russian folk music linger in the air. The waterfront restaurants serve authentic Russian cuisine, and a good drink is always available.
Like another Russian city, Ufa, Khabarovsk is situated at the confluence of two rivers. Since Khabarovsk is not far from China, the city sees many visitors from China, Japan and other Asian countries. Khabarovsk Novy Airport is a significant stop-over for all polar flights between Europe and North America. This remarkable Russian destination is also connected by air to most Asian countries.