Rostov Cheapest Fares
To search and book flights to Rostov in 2021 and 2022, please enter your requirements and click the search button above.
Experience a Russian Easter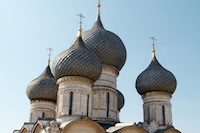 Rostov in Russia is part of the Golden Ring, a circle of cities which were instrumental in the foundation of the Russian Orthodox Church. This beautiful destination is now commonly called Rostov Veliky (Rostov the Great in English) to distinguish it from Rostov-on-Don, another city in Russia. This Rostov however has culture and history in spades, and is a fabulous place to soak up a traditional Russian atmosphere over the Orthodox Church's Easter.
There are special services in the city's Kremlin (fortress) which is probably the most beautiful Kremlin in Russia but, while it is a hugely popular tourist attraction within Russia, a destination that is a very well kept secret from the outside world. The sumptuous cathedral within the Kremlin, with its five magnificent onion domes, was founded in the twelfth century, although most of the buildings were constructed in the seventeenth century.
The belfry houses fifteen bells, each of which have their own name. While the monks play regular bell concerts, at Easter, the city participates in the Russian Easter Festival, where, among the festivities, a special bell ringing programmes take place. The bell ringing festival was established in 2001 to showcase younger musicians' talent and, from small beginnings in Moscow, has now spread to involve 40 Russian cities. As well as bell ringing, the festival also includes symphony concerts, choral performances and chamber music. Massed choirs fill Rostov's Kremlin with glorious sound, singing everything from liturgical masses to modern opera.