Murmansk Cheapest Fares
To search and book flights to Murmansk in 2021 and 2022, please enter your requirements and click the search button above.
Lights of Spring/Prazdnik Severa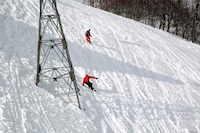 Since March 1934, winter sports and culture lovers all head to the north Russian destination of Murmansk every March to celebrate the beginning of the Arctic Circle's 'Lights of Spring'. Also known as the Prazdnik Severa or the Festival of the North, this special winter sporting event runs over 10 days and includes winter sports competitions such as reindeer races, finishing with the famous ski-marathon in which over 1200 skiers take part.
The annual regional celebration takes place about 130 miles north of the Arctic Circle across the villages of the Kola Peninsula with the largest celebrations taking place in the destination of the isolated capital, Murmansk, famous for its lakes and sprawling nature reserve.
During December and January, Murmansk experiences 2 months of unbroken darkness, a phenomenon known as 'polar nights' when the sun doesn't shine. You can imagine how exciting it is then to welcome the light of spring after living through such a phenomenon year on year. The festival is held every year as an expression of the culture of this region and its unique climate.
A diverse range of sporting competitions including an ice hockey tournament, cross country racing, downhill skiing and even underwater swimming in the ice-cold Arctic waters of Lake Semyonovskaya are held.
The events attract athletes from all over the world, with the Russian cross-country skiing team competing every year. The traditional Saami people, a culture which has survived the harsh Arctic conditions for millennia, also visit the event every year to exhibit their reindeer and entertain with dancing and singing.