Moscow Cheapest Fares
The lowest fare found to Moscow (SVO) was £157 with airBaltic and the cheapest direct flight was £294 with Aeroflot. The fares shown here are the lowest flight prices to Moscow obtained in actual searches by Just The Flight customers. To search and book flights to Moscow in 2021 and 2022, please enter your requirements and click the search button above.
Christmas Celebrations in Moscow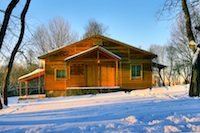 If you are looking for somewhere to spend the perfect Christmas break, look no further than Moscow. The city is full of culture, heritage and unique charm at any time of the year, but in December the frozen Moskva River, snow covered buildings and range of festive attractions turns the city into a winter wonderland. If you want a white Christmas, this is definitely the place to go.
As the festive season approaches, the city centre transforms itself with a vast array of decorations, events and attractions. A number of ice rinks pop up around the city each year, and you may find ice sculptures, parades of snowmen and other cold weather artworks as you explore the streets. A sleigh ride through the forests outside the city centre or a cruise down the river on an ice breaking boat can be an unforgettable experience, or you may like to attend one of the many Christmas concerts or do some shopping at the festive Izmailovsky market.
The charm of this city is that it offers a completely different festive experience that mixes both modern and traditional aspects with the perfect wintery weather, and is very easy to get to. Sheremetyevo International Airport services flights to and from cities all over the world, and the location of the city means that journey times are short from many major European cities. There is an enormous amount to see, do and experience in Moscow at Christmas, and it can be a magical place for a festive break.