Yuzhno-Sakhalinsk Cheapest Fares
To search and book flights to Yuzhno-Sakhalinsk in 2021 and 2022, please enter your requirements and click the search button above.
Historic town founded by convicts now a tourist destination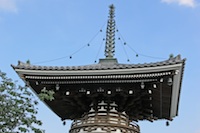 Flights to the Yuzhno-Sakhalinsk Airport are now being booked by history buffs. The former Russian settlement founded by convicts in the latter part of the 19th century, is one of the most historic cities in Russia. It was under Japanese rule at the time but was transferred back to the Soviets during the Second World War. The presence of Japanese architecture is one of the major attractions in the area, making this place an interesting city to visit.
Yuzhno-Sakhalinsk has plenty to offer and this includes the Museum of Local Lore, the Sakhalin State University, the Gagarin Park, and Gornij Vozduh.
The beautiful city has been inhabited by different peoples. One example is the Ainu people of Japan. The power struggle between Japan and Russia can be seen through the buildings in the area, making it a known destination for those who are interested in the Russian Far East.
The climate is also one factor why many travellers visit the area. The Sea of Okhotsk provides a generally humid and cool weather.
Sakhalin island is one of Russia's largest islands and located just 40km from Hokkaido, Japan. The island itself is surrounded by mountains with a valley right in the middle. The place is also heavily forested.
Apart from sightseeing, travellers to the island city can go diving, skiing, and rafting.
The local cuisine should also be sampled by travellers since the food served here has Russian influences with a Sakhalin twist.