Arkhangelsk Cheapest Fares
To search and book flights to Arkhangelsk in 2021 and 2022, please enter your requirements and click the search button above.
Hundreds of Performances at the International Street Theatres Festival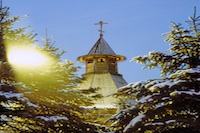 For decades it was difficult, if not impossible, for Westerners to travel into Russia, but with the establishment of the Russian Federation to replace the Soviet Union, there are now flights every day to Moscow, St. Petersburg and several other destinations. Tourists arriving in St. Petersburg can reach the north-western city of Arkhangelsk to attend the International Street Theatres Festival. First established in 1990, the festival has grown by leaps and bounds until it now occupies fifteen separate areas of Arkhangelsk.
Each year the festival opens and closes with a traditional street carnival where those attending join in the procession. In between the two carnival events, almost 500 dramatic and comedic performances happen, not just on the streets as the festival name implies, but also in various venues around the city.
Internationally respected, the International Street Theatres Festival was recognized in 1992 by the United Nations, which listed it in their programme for the "Universal Decade of Cultural Development." More than a decade later, the festival still retains this distinction. Over the course of its history, over 200 theatre companies have attended the festival to entertain the crowds that assemble in Arkhangelsk. Many of these companies reach this destination from outside Russia; among the nations heavily represented in the past are the UK, the US, Italy, France, Norway, and Belgium.
Arkhangelsk is located along the banks of the Dvina River. Tourists who attend the festival can also easily view the famed White Sea when they are not attending dramatic performances.