Air Transat Flights and Routes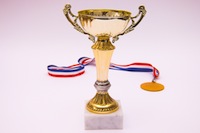 Air Transat is a Canadian airline connecting Canadian cities with destinations in 25 countries in Europe, the USA, the Caribbean, Central and South America using a fleet of Airbus aircraft.
In an online poll, Air Transat was voted the best overall airline for family travel. The airline came out on top with a staggering 49 per cent of the votes in their favour. One of the likely features which may have encouraged this overwhelming support was the Kids Club where Air Transat invites children to take advantage of some of the benefits of flying with them. These include prize draws, welcome kits, on-board birthday celebrations, as well as child friendly, dedicated airport counters.
Air Transat's President and CEO Allen B. Graham says, "For nearly 25 years now, children and families have been a top priority for Air Transat. As Canada's number one holiday airline, we make it part of daily life to surpass customer expectations."
Air Transat is one of the many participants in the Kids First Fund, which is an annual international online travel auction. The auction is filled with an array of items such as hotel stays and airline tickets from a list of worldwide travel partners.
Any parent knows that a plane journey with children has the potential to be the longest few hours of their life unless the children are entertained and entertained well. It is clear that this poll shows that the way to have satisfied customers is to satisfy and ultimately amuse their children.