Manchester (MAN) Airport Guide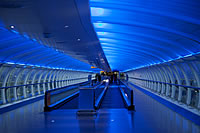 Manchester Airport Manchester Airport has a 70-year history which has seen it develop from a small aerodrome handling 7,600 passengers a year to the global gateway for Northern England.
Today, over 100 airlines offer direct flights from the hub to over 210 destinations worldwide, connecting over 22 million passengers every year to more locations than any other airport in the UK.
Manchester Airport has also recently opened the Concorde Visitor Centre which allows people to explore the famous aircraft in a new environmentally-friendly building. The centre also includes a corporate hospitality suite where guests can dine underneath the wings of the craft.
Manchester Airport Amenities
In Terminal 1, there is the Bollin Lounge and the Emirates Lounge, which is open to business class passengers and Gold Skywards members travelling on one of the airline's two non-stop daily flights from Manchester to Dubai and beyond.
The suite offers a selection of fresh food and drinks and features large plasma screen TVs showing the latest news and programmes. There are shower facilities for passengers to freshen up, while the business centre features independent work stations with free broadband and wireless internet access.
In Terminal 2, the Escape Lounge is open to loyalty pass holders or a Priority or Airport Angels card. Again, a selection of drinks and snacks are available, including continental breakfast for early arrivals. The Oasis of Calm area gives passengers a place to relax, while the Hot Desk Area provides access to phones, fax machines, the internet and copying facilities.
The Air France Executive Lounge and the Styal Lounge are also located in this terminal, while British Airways Terraces Lounge, the bmi Executive Lounge and the Flybe lounge can be found in Terminal 3.
For those without access to these exclusive facilities, there are various amenities at Manchester Airport to make their journey that little bit more comfortable.
Passengers can access the internet through T-Mobile Wireless HotSpots located at cafes and seating areas in all three terminals at the hub. This costs as little as 75p for ten minutes.
There is also a shower and change service for travellers to freshen up in between flights. This is hosted by the Radisson SAS hotel and costs £6.50 per person.
Manchester Airport extends the city's reputation for excellent shopping, offering a wide range of stores for browsing both before and after going through security, including designer chains Mango and Kurt Geiger.
As far as catering is concerned, there is also a wide choice for travellers, from fast food outlets such as Burger King to family favourites like Frankie and Benny's.
Terminals at Manchester
In the last ten years, Manchester Airporthas undergone a £5.5 million retail upgrade of Terminal 1 and a £60 million integrated public transport interchange has been built. This year, it unveiled a further £80 redevelopment across Terminals 1 and 2 and was subsequently named airport of the year ay the Travel Trade Gazette Awards.
The hub is made up of three passenger terminals and a world freight terminal, with the complex featuring eight major hotels, including the Radisson SAS, Hilton and Marriott.
Manchester Transport Links
A railway station at the airport offers direct access by train, while national coach and local bus services also serve the hub.
Manchester Airport has also teamed up with Europcar to provide a private rental service and has a contract with PCS Airport Transfers which can arrange transport to and from the hub.
Hackney cab taxis are available outside all three terminals and private hire taxis must be booked in advance.