Emirates Flights and Routes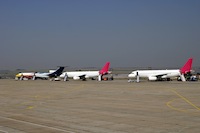 Emirates are based in Dubai and fly to more then 70 destinations worldwide covering the Middle East, Africa, Europe and Asia.
Emirates have demonstrated their commitment to reducing their carbon dioxide emissions during optimised flights between Australia and the Middle East. The flights are just the start in the fight to make the airline industry fulfil their commitment to reducing potentially harmful emissions from their aircraft.
Over the coming years the demands placed upon the airline industry to make their aircraft cleaner and more efficient will become more and more pressing. Not least is the imposition of targets by a number of aviation authorities, especially in Europe, to reduce the quantity of CO2 which is released into the atmosphere by commercial aircraft. There are severe penalties for breaches of these emissions targets and if these are levied, they are likely to be passed onto the passenger.
Additionally with increasing fuel costs, there is a need for airlines to devise clever ways to use less fuel and to ensure that fuel is used in as efficient manner as is possible. Airlines, including Emirates, are looking at ensuring this efficiency through using more economical engines and ensuring that space and weight constraints on the aircraft are effectively managed.
Emirates took part in test flights where the whole process from starting the engines to powering down at the end of the flight was managed to ensure that all of the available data went into making the flights more efficient. By creating minimal delays before take-off, examining the weather data to ensure the optimum flight path was used and flying at the ideal speeds all contributed to savings on fuel costs and emissions. This in turn means that flights for passengers might just get cheaper and that the pollution will be reduced for the benefit of all.