Zanzibar Cheapest Fares
To search and book flights to Zanzibar in 2022 and 2023, please enter your requirements and click the search button above.
Zanzibar Cultural Festival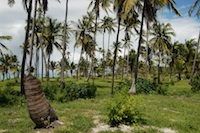 The Zanzibar Cultural Festival is an annual showcase of the traditions of the Zanzibar region. All throughout Africa, performers flock to the festival to showcase the diverse traditions and celebrations of their region of the continent. The most prominently featured culture at the festival is Swahili.
Music is important during the festival. Zanzibari taraab music plays all day and traditional dances are performed by troupes from all over, not just Zanzibar. In addition, the diverse cultures that showcase at the festival also bring arts and crafts to celebrate their local cultures.
The event is about more than just performances. Workshops and performances pop up all throughout Zanzibar during the cultural festival. The event moves fluidly through the area. Street carnivals pop up in Stone Town while canoe races take place on the water. In the north, the island of Pemba includes a bull fight in their version of the festival, celebrating the Portuguese culture present there. The people of Pemba let the trained bulls chase unarmed men. The festive and humorous event is a take on the famous Iberian version of bull fighting.
The festival takes place in Zanzibar every July. It follows the international Zanzibar Film Festival. Guests can see a bull fight, take part in workshops or just watch the many dances and performances going on. The festival has everything from large cultural exhibits to small fairs out on the street. It is the perfect way to experience the rich and diverse culture of Zanzibar and the surrounding areas of the African archipelago.