Mwanza is About Real Africa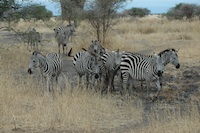 "It's a wonderful place to stay if you want to get a feeling of what the real Africa is about." This is what one traveller had to say about her time in the destination of Mwanza, Tanzania's second largest city on the southern shores of Lake Victoria.
Writing on an online tourism site, Metten described her six months exploring Mwanza and the amazing game parks and islands surrounding it.
Although situated just south of the equator, Mwanza's high altitude (1,134 metres above sea level) has a cooling effect with fresh breezes and lower humidity than you might expect. The town is also perfectly situated for exploring the many nearby national parks – the western Serengeti, Ngorongoro, Kigosi and Moyowosi. It is also easy to make the trip to nearby Uganda by air or by boat.
Excursions or safaris to Rubondo and Ukerewe islands on Lake Victoria can also be arranged. These destinations are reached by air or by boat and make overnight accommodation available.
Rubondo Island National Park, 95 miles west of Mwanza, offers jungle walking, boat and fishing safaris. Chimpanzees, vervet monkeys, mongooses, genets, elephants, antelope, crocodiles and hippos, and about 400 species of birds can be found in jungle, grassland or papyrus reed beds.
Ukerewe Island boasts beaches, small villages, interesting rock formations and a varied landscape. The main town, Nansio, also has a local market worth exploring.
A range of accommodation is available in Mwanza itself and the airport offers non-stop flights to six nearby cities. Internet cafés are located on every second street corner and Tanzania claims to have the largest number of these in sub-Saharan Africa.