Cheap Flights to Kilimanjaro (JRO) from UK Airports
Book flights to Kilimanjaro
Kilimanjaro Cheapest Fares
To search and book flights to Kilimanjaro in 2022 and 2023, please enter your requirements and click the search button above.
Summitting Season at Mount Kilimanjaro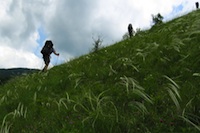 Mount Kilimanjaro may be the highest mountain in Africa, but it is also one of the most accessible. This makes it a popular destination for climbers of all ages and experience levels. For the climber who dreams of summitting Mount Kilimanjaro, the time to climb must be chosen carefully, as many factors contribute to the success of a climb. Weather is extremely important, and can make or break the success of your climb. The most hospitable trekking times correspond with the mountain's dry seasons, although it is worth noting that these seasons do not guarantee a lack of rain. These periods are January to mid-March and June through to October. One factor to keep in mind is that climbing Mount Kilimanjaro during the dry season will help you avoid clouds on the summit. What could be more disappointing than clouds blocking the breathtaking view that you had worked so hard to see?
The Kilimanjaro Region in Tanzania is an exciting destination with an effective infrastructure that offers an extensive flight schedule into the country from many international destinations. The idea of spending the summer in the warmth and beauty of a prosperous African country is gaining more and more attention from international visitors, and with good reason. Tanzania has progressive and modern attitudes that have built a strong tourist industry that continues to grow, and Mount Kilimanjaro is an excellent destination that offers natural beauty and and a wide variety of activities. Tanzania has excellent wildlife, and ever-popular safaris are always available for tourists.