Seoul Cheapest Fares
To search and book flights to Seoul in 2022 and 2023, please enter your requirements and click the search button above.
Lotus Lantern Festival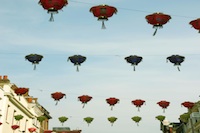 Visit a birthday party with a twist and fly to the Korean city of Seoul. There, the Lotus Lantern Festival takes place annually around May, and it is a glorious spectacle of light, colour and Korean culture. The decadent event celebrates the birthday of Lord Buddha through song, dance and the breathtaking release of hand-crafted lanterns into the night sky.
Visitors to the destination can participate in the activities leading up to the big day by making lanterns and learning about Zen Buddhism. The lanterns are traditionally shaped into the form of a lotus flower, and are lit to signify the desire to help others and light up the lives of those in darkness.
The festival is characterised by people dressed in vibrant colours and priests adorned in ceremonial robes. The celebration also provides guests with a chance to get involved in the culture of the destination by sampling temple dishes and making lanterns. The lanterns, made from dyed Korean paper, come in many forms, but are usually sculpted as fruit or an animal to symbolise health, longevity and a bountiful harvest.
As the Lantern Parade begins, people gather in the streets to look on as crowds march with dragon, lotus flower, and elephant-shaped lanterns to a selection of Korean music. After the parade, participants are encouraged to join dancing circles before 100,000 lit lanterns of hope are released into the night sky to end a very memorable birthday.