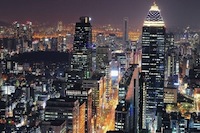 Book cheap flights to Korea South by selecting an airport destination in Korea South below. Compare flights to Korea South from over a hundred airlines worldwide and book online with us today.
South Korea lies in Eastern Asia and is bordered by China, Japan, North Korea, and Taiwan. Known for its grasp on futuristic technology and stunning architecture, the country is one of the most advanced in the world, particularly when it comes to transport.
After being jointly awarded the 2002 FIFA World Cup with Japan, South Korea upgraded much of its transportation and it now proudly displays some of the best airports and rail facilities in the world. Incheon International Airport was completed in 2001 and is the main international airport for South Korea. Located around 43 miles west of the capital city Seoul, the airport has been voted as the world's best for five years on the trot by the Airports Council International. It lists a golf course, a casino, an ice rink, a spa and a museum as its attractions, making it almost like a holiday location in itself.
Other international airports are located at Busan, Jeju and Gimpo, which is in Seoul. South Korea also boasts excellent rail lines, with KTX supplying high-speed trains between all major cities.
The dominating industries in South Korea are mainly automobiles and consumer technology, with export being the method that fuels the economy. World-renowned companies such as Hyundai, Kia, Samsung and LG are based there, and the country is one of the leaders in the fields of robotics and biotechnology.
Tourism in South Korea is widespread thanks to its awe-inspiring peaks and natural landmarks, mainly centred around Seoul and Seoraksan. There are also a number of small islands off the south coast such as Jeju Island that provides breathtaking views for tourists.