Ulsan Cheapest Fares
To search and book flights to Ulsan in 2022 and 2023, please enter your requirements and click the search button above.
Beach near Ulsan is windsurfers paradise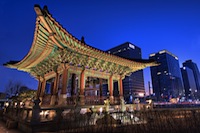 Ulsan is a huge city in South Korea with a population of over 1 million. Known primarily as an industrial city, Ulsan is not commonly thought of as a tourist destination, however with an airport offering plenty of connecting flights to the international airport in Seoul, it is an easy city to travel to, and there is plenty for visitors to see and do. One of the popular destinations in the area is Jinha Beach, a host for the Professional Windsurfers Association World Cup.
Located around a 30 minute drive from the city of Ulsan, Jinha Beach has long been known as a surfers paradise in Korea, with many enthusiasts visiting the area in order to experience the strong cross shore winds found at the beach. This destination is considered by many to be the top windsurfing beach in the country and has seen an even greater influx of visitors since holding the annual Ulsan PWA World Cup.
The top names in international windsurfing travel to Jinha Beach each year to take part in the event, which takes place over seven days of exciting competition. With a large sum of prize money on offer, there is guaranteed to be strong competition to see who will emerge victorious. Spectators can relax on the beach and food and drinks are available from the beachside restaurants and cafes nearby.
For visitors who have never witnessed professional windsurfing in person, the world cup offers an exciting experience and a great way to spend a day while on holiday in Ulsan.