Seoul Cheapest Fares
To search and book flights to Seoul in 2022 and 2023, please enter your requirements and click the search button above.
Seoul: The City of Festivals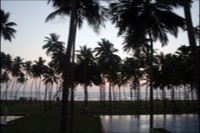 Seoul has been dubbed the city of festivals, and it really is. Tourists go out of their way to visit this destination specifically for its frequent, vibrant, cultural events, as there are major festivals in many months of the year, with some months even boasting two festivals.
Seoul's magical Lotus Lantern Festival is one of these famed events. This is in celebration of the Lord Buddha's birthday and takes place either in April or May, depending on when the birthday falls that year. It kicks off with a lighting ceremony, where people from cultures all over the world light lotus-shaped lanterns in a symbolic promise to perform more good deeds, and in the hope of lighting up areas of the world that are suffering terrible hardships.
The true festival does not get into full swing until a few days later, however, with the traditional lantern exhibition at Bongeunsa Temple. The real festivities then really begin with the lantern parade a day later, featuring tens of thousands of lanterns in all different shapes and sizes, including lotus flowers, elephants and dragons, illuminating the sky in vibrant technicolour. It is the sight of the century and sure to be a highlight of your once-in-a-lifetime trip to Seoul.
Other festivals this lively destination has to offer include the highly-anticipated, artistic Hi! Seoul Festival held in each season, the Prehistoric Cultural Festival celebrating South Korea's heritage and Seoul Tano Festival, both of which are held in June, and the Seoul International Cartoon and Animation Festival, Baekje Tomb Festival, Seoul Performing Arts Festival and the Seoul Drum Festival – all held between August and October.