Cochin Cheapest Fares
The lowest fare found to Cochin (COK) was £484 with Gulf Air. The fares shown here are the lowest flight prices to Cochin obtained in actual searches by Just The Flight customers. To search and book flights to Cochin in 2020 and 2021, please enter your requirements and click the search button above.
Indira Gandhi Boat Race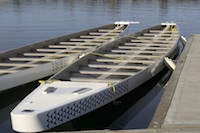 Avoid the chill of winter and escape to Cochin in India where locals make a splash and bid for glory. The Indira Gandhi Boat Race is an exciting spectacle on the Cochin calendar that attracts locals and tourists from all around the world. Taking place in the destination's rolling back waters in the last week of December each year, the race has become part of a week-long tourism fair that ends with a grand gala.
Boat races are popular throughout the destination and competitions such as the Nehru Trophy, Champakulam Moolam and Kumarakom are held here. The Indira Gandhi competition in particular was created in memory of India's last prime minister and the trophy is a coveted prize for participants.
The event is special because, unlike other events, the competitors are selected on the basis of their ability and performance, regardless of their caste, creed or class. During the weeks leading up to the race, the oarsmen obey certain rules and are fed by the villagers or the wealthy beneficiaries who cover the participants' expenses.
The boats used in the race are called Vallum Kali, nicknamed snake boats, and they are smeared with oil to make them run faster in the water. The vessels, each representing a village, are steered by up to 150 oarsmen who row the boats to the quick pace of the Vanchupattu, the song of the boatmen. The race offers visitors an exciting atmosphere and unique insight into the culture of this colourful destination.