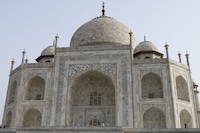 Book cheap flights to India by selecting an airport destination in India below. Compare flights to India from over a hundred airlines worldwide and book online with us today.
India is often designated as a sub-continent, with its location in South Asia. Its borders are shared with Pakistan, Bhutan, China, Nepal, Bangladesh, and Burma. This unique location gives it a unique, multi-layered culture. Its coastal area is bordered by the Arabian Sea, the Indian Ocean, and the Bay of Bengal.
New Delhi is the country's capital, which is located in the northern part of the country. Mumbai, once known as Bombay, is the most densely populated city in the country. Its location is on the country's western coast.
Chhatrapati Shivaji International Airport, the country's principal airport, is located in Mumbai. It is the busiest airport in the country, and handles most of the incoming international flights. Expansions have taken place to increase the airport's capacity.
There are numerous attractions to see in this country. The majestic Taj Mahal, located in the northern city of Agra, should not be missed. This palace is considered one of the world's most beautiful attractions. If you decide to travel to the eastern coast, the city of Goa is a unique place to see, as it has a mixture of Indian and Portuguese culture. The country is home to three ancient religions: Hinduism, Jainism, and Buddhism. One area in particular, Ellora/Ajanta allows visitors to see shrines and temples representing all of them.
Most of India's economy is made up of jobs in the service sector. The second most important part of the economy is agriculture, with exported crops including rice, cotton, and tea. Manufacturing of steel, textiles, machinery and software is also important.