Madurai Cheapest Fares
To search and book flights to Madurai in 2021, please enter your requirements and click the search button above.
Float Festival is a part of Madurai's culture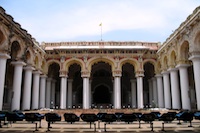 The ancient city of Madurai hosts countless festivals and celebrations throughout the year. With heavy Hindu influence on every aspect of life, it is no wonder that the festivals in this Indian city are focused almost solely on celebrating and memorialising religious deities and figures that are important to the area's past. The Float Festival in January/February, which is one of the most widely renowned celebrations for the people of Madurai, is no exception.
The Float Festival has been celebrated in Madurai since the 17th century, when King Thirumalai Nayak constructed a float and a temple to Lord Vigneswara on it. He began the custom of taking the idols of the city's gods and goddesses for a boat ride each year on his birthday. This custom continues today in Madurai, with elaborate and colourful floats and rafts being constructed by devotees. A parade begins at the temple, where elephants, horses, musicians and thousands of devotees to the deities begin their journey to the lake. The sight of the colourful and joyful procession making its way through the streets of the Indian city is one not to be missed.
The festival is also well known for the millions of lights that illuminate the island and lake where the idols are brought. On the night of the festival when all is dark, the temples are alight with a range of coloured lights. The boats are lit up with bulbs and devotees light lanterns as they proceed on their own boats to the shrines, making it a truly magical experience to witness.