Cheap Flights to Ahmedabad (AMD) from UK Airports
Book flights to Ahmedabad
Ahmedabad Cheapest Fares
The lowest fare found to Ahmedabad (AMD) was £953 with British Airways. The fares shown here are the lowest flight prices to Ahmedabad obtained in actual searches by Just The Flight customers. To search and book flights to Ahmedabad in 2021, please enter your requirements and click the search button above.
Ahmedabad's Festivals Celebrate its Cultural Heritage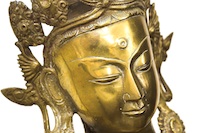 The city of Ahmedabad prides itself on its exotic culture. It is a land of safaris and the arts, of pristine natural landscapes and rustic neighbourhoods. One of the city's greatest strengths and most attractive qualities is its ability to merge the old and new worlds, and in particular its unique religious and cultural traditions with modern day celebrations. As a result, this Indian city is a Mecca for visitors who are looking for an exciting and unique travel destination.
Many of Ahmedabad's most popular festivals revolve around the many beautiful temples that dot the city. The Chariot Festival, known locally as Rath Yatra, is a popular eight-day event that showcases this marriage of modern celebration with religious and cultural tradition. Thousands of participants flood the Temple of Jagannath each summer and make the week-long pilgrimage between two of the city's temples as a devotion to the Lord Jagannath. The chariot festival is meant to celebrate the Indian god's journey home, re-enacting one of their religious stories through the chariot rides and the celebration that it merits.
Many of the city's festivities and attractions revolve around the many architecturally stunning temples and shrines found throughout the area. Visitors can witness a truly unique and spiritual event while also experiencing the celebratory food and parties that are thrown throughout the festival. Rath Yatra has been celebrated here since ancient times, making it a part of the historical fabric of Ahmedabad. Daily flights are available to this ancient and fascinating destination throughout the year.
Cheap Flights
The best prices our customer have found to Ahmedabad in the last 7 days
British Airways
Ahmedabad
£953

Qatar Airways
Ahmedabad
£971

Turkish Airlines
Ahmedabad
£1052

EgyptAir
Ahmedabad
£1055

Virgin
Ahmedabad
£1076