Chandigarh Cheapest Fares
To search and book flights to Chandigarh in 2021, please enter your requirements and click the search button above.
West meets East in Chandigarh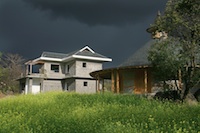 Chandigarh, India may be off the beaten path but its popularity is steadily increasing among adventure travellers. Holidaymakers who seek to go beyond their travel comfort zones are finding themselves drawn to this city, for true cultural immersion and relaxation with a hint of risk.
Of course there is no real risk involved but this well kept secret destination offers exciting new challenges, due to its current lack of tourist pandering. Frequent visitors to India and those making long trips over land are detouring to Chandigarh, to get away from the holiday hubbub and experience India as a native would do. And what better place to do so than the City Beautiful? This destination is nicknamed for its cleanliness and green design. Chandigarh is actually world renowned, for its green inclusive planning and architecture. It is easy to see that a lot of thought has gone into making the city a welcome respite for weary travellers, with its numerous gardens and the well made use of its lake.
Once rested, travellers and holidaymakers can also find a number of ways to entertain themselves, whether it be a short or long stay in Chandigarh. The plentiful entertainment is inexpensive, from popular bars and night clubs to shopping malls packed full of designer brands and local handicrafts. A bit of Western indulgence meets true Eastern style and grace in this destination.
As holidaymakers grow bored of the same old seaside resort, destinations like Chandigarh reap the rewards for sticking to their culture and values and welcoming holidaymakers to join them in their world.