Agra Cheapest Fares
To search and book flights to Agra in 2021, please enter your requirements and click the search button above.
Agra Welcomes Lovers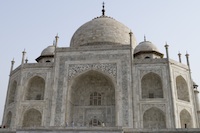 The Taj Mahal has become almost synonymous with love and for people looking for a romantic holiday destination, Agra, India, tops the poll when it comes to offering everything you could possibly need for a romantic getaway.
Located only 40 minutes from India's capital Delhi, Agra and the Taj Mahal receive more than three million visitors per year. People from all over the world flock to see this magnificent display of love, built in the 17th century by Emperor Shah Jehan to celebrate the life of his wife Mumtaz Mahal, who tragically died giving birth to their third child. The mausoleum was finally finished in 1653, having taken thousands of artisans and craftsmen 21 years to complete it.
When you arrive, you might feel as if you have already been there before, so iconic is the Taj Mahal. As you stand and marvel at its reflection of the lotus pond in the front gardens, nothing will prepare you for the mystical effect it will have over you. With the help of tour guides on site you can learn all there is to know about its history, the artwork, and the surrounding areas.
Marvel at this symbol of eternal love from the banks of the rive Yamuna, or explore it from within, whatever you decide to do, if you chose Agra as a holiday destination with the person you love, make sure you have your camera with you as you will be left with images you never wish to forget.