Srinagar Cheapest Fares
To search and book flights to Srinagar in 2021, please enter your requirements and click the search button above.
Locals celebrate religious festivals in Srinagar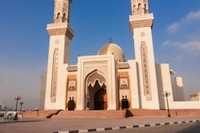 The city of Srinagar, in the far North of India, is located in the Kashmir Valley and is one of the largest cities in India without a Hindu majority. Tourism is the main contributor to the economy of this destination, with visitors travelling to the city to view some sites of astounding beauty in what is often called the 'Venice of the East'. Religion is very important to the inhabitants of Srinigar and many religious festivals take place throughout the year. One of the main festivals held is the Navroz Festival.
Celebrated by Shia Muslims, the Navroz Festival takes place a week after New Year's Day and takes place over 9 days. The festival is the marking of the start of a new year and the first day of spring. It is also a time for rejuvenation and spiritual renewal. Unlike many other festivals, Navroz does not involve fasting, instead special meals are prepared on which to feast, and finest clothes are worn.
During the time of Navroz, Muslims spend much time socialising with their friends and visiting family to wish them the best for the coming year. It is very much a time of great community spirit and makes Srinigar a pleasant destination to visit at this time of year. During Navroz, it is mandatory for all Shia Muslims in Srinagar to congregate in mosques and offer prayers. On these occasions, prayers are held in large open areas and are followed by a sermon. This festival is a time of great joy and celebration in Srinagar.