Udaipur Cheapest Fares
To search and book flights to Udaipur in 2021, please enter your requirements and click the search button above.
The Udaipur Mewar Festival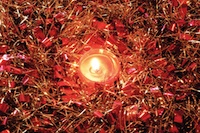 Udaipur, or the City of Lakes, is located in the state of Rajasthan in India. The people of Rajasthan are well known for celebrating their numerous religious and social observances with a great deal of fervour. Nowhere can this dedication to pageantry and tradition be seen more clearly than in the celebration of the Mewar Festival in Udaipur.
Udaipur has historically been the seat of the Mewar rulers, so this festival is celebrated with added gusto in this destination. The Mewar Festival is a celebration of the arrival of spring, and the entire city is decorated in bright colours with paper, tinsel and paint. The markets, shops, and most houses will dress their front entrances with banana leaves, flowers, and colourful designs intricately drawn with chalk powder. One of the major rituals consists of women dressed in their brightest and best attire gathering to dress the idols of Isar (Lord Shiva) and Gangaur (Goddess Parvati). Once dressed, these images will be paraded in a procession through the streets and finally submerged at the Gangaur Ghat in Pichola Lake.
Culturally this festival has an important significance for the women of Rajasthan, who are usually marginalized. Here they have a central role and get to showcase their creative talents and skills. They also have a place in the ceremonial aspect of the rituals. After the religious elements have been performed, the people gather for a time of singing and dancing. The Mewar Festival concludes with a grand display of fireworks.