Mangalore Cheapest Fares
To search and book flights to Mangalore in 2021, please enter your requirements and click the search button above.
St Aloysius Church In Mangalore, India, attracts travellers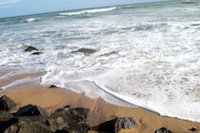 Mangalore, India, is one of the most scenic places in the South Asian nation. Its lush vegetation, beautiful coast, ancient places of worship and other historic sites makes it a special place to go to. The city's countryside charm makes it even more alluring to holidaymakers who like the road less travelled.
Flights to Mangalore International Airport are usually fully booked from December to February, since these months are the most pleasant times of the year to travel to the area. Temperatures in this Indian city usually fall below 30°C during these months. Summertime is also a wonderful time of the year to visit the place but for those who cannot handle heat and humidity, it is best to wait for winter.
Going to the beach is a wonderful idea while in this part of India but, after visiting the beautiful coast, tourists can head to the Kadri Manjunath Temple built in 1068. The tourist attraction is located right at the food of Kadri's highest hill and is made out of nine water tanks powered by the Gomukha Spring.
The real gem in this beautiful place, however, is the St Aloysius Church near Kudumal Ranga Rao Road. The walls of the church are donned with artwork done by Antony Moshaini, an Italian painter in the latter part of the19th century. The place is comparable to Rome's Sistine Chapel with paintings virtually covering the interior roof.
Other places to visit include the Kudroli Gokarnath Temple, the Sultan Battery, the Light House Hill Garden and the Mangaladevi Temple.