Vadodara Cheapest Fares
To search and book flights to Vadodara in 2021, please enter your requirements and click the search button above.
Vadodara hosts the cultural celebration of Navratri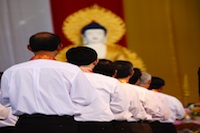 Vadodara, the cultural capital of Gujarat, will host the nine-day celebration of Navratri, which literally means 'nine nights' in the ancient Sanskrit language. The citizens of the town worship the goddess Shakti in her various forms, using creative and traditional dance.
During the festival in October and November, local people fast during the day and then dance the night away. It is astonishing to see how the people come alive at night, dressed in bright colours and dancing. On the final night, there is an all night garba dance, which involves men and women dancing to traditional music. The atmosphere is ecstatic, with wonderful Indian music and festive food making this a magical experience.
One of the most celebrated festivals on the Hindu calendar, Navratri is divided into several parts. The first three days are dedicated to the goddess Durga, who is the warrior Goddess. Her three incarnations represent the child, the young girl and the mature woman. Following this, three days are spent worshipping the goddess Lakshmi, who is the goddess of wealth and prosperity. The final three days are given over to the worship of the goddess Saraswati, who is the goddess of knowledge.
Navratri is a deep cultural celebration, and will leave visitors to Vadodara entranced and amazed by the depth of the Hindu faith. Those interested in faith and culture should not visit India without experiencing the festival. Although it could be said it has now become more of a cultural phenomenon than a religious event, there are still deep religious roots and it provides a fascinating window into this ancient faith.