Nagpur Cheapest Fares
To search and book flights to Nagpur in 2021, please enter your requirements and click the search button above.
Nagpur, India Celebrates the Hindu God of Knowledge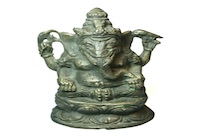 One of the most popular annual festivals in the town of Nagpur, India is Ganesh Utsav, an event that honours the Lord Ganesha, Hindu god of wisdom and knowledge as well as the patron saint of the state of Maharashtra, where Nagpur is located. This festival, celebrated throughout the state, is also called Ganesh Chaturthi and Nagpur makes for a great holiday destination when it is taking place.
The whole city of Nagpur comes to life during Ganesh Utsav, which takes place on the fourth day of the month of Bhadrapada, according to the traditional Indian calendar, which follows the cycles of the moon. Locals congregate in the streets, joining hands to come together to appreciate the magnificence of their god and express their appreciation for his gifts of knowledge.
The festival lasts ten days in all, with Ganesh idols scattered throughout the city in store fronts and windows. One of the highlights of Ganesh Utsav is when a representation of the god, who has the head of an elephant, is paraded through the streets. This is a time in Nagpur when the culture of the Maharashtra region is joyously celebrated by its residents. The typical food for the festival is "modak," or sweet balls made of rice. These are not only eaten throughout the days of Ganesh Utsav, but they are also offered to Lord Ganesha as a symbol of dedication to him.
Tourists taking flights to destinations in the state of Maharashtra should plan to arrive in August in order to see the festival.