Jodhpur Cheapest Fares
To search and book flights to Jodhpur in 2021, please enter your requirements and click the search button above.
Jodhpur, India provides famous festivals and ancient sights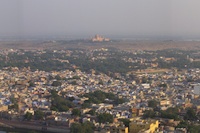 Flights into Jodhpur are frequent and reliable if you are considering making this city your next destination choice. The city of Jodhpur, India is an ancient one with a long history. It is home to some of the most spectacular monuments in the country and is a wonderful destination choice for those who enjoy authentic culture. Aside from 15th century monuments and forts, Jodhpur is also known for its annual festivals.
The local fairs are celebrated with all the enthusiasm you would come to expect from a country with such a profound history. From young to old, everyone takes part in the local traditional fairs.
The most famous festivals in India are the Marwar Festival, the Nagaur Fair, and the International Desert Kite Festival that takes place each year. These famous festivals draw hundreds of thousands from around the world as visitors arrive to witness some of the best traditions in all of India, including regional dance, music, and food.
Some landmarks worth seeking out are the Umaid Bhawan Palace (also referred to as Chittar Palace which today is part hotel), and the magnificent Clock Tower in the Sadar Market area as well as the Mehrangarh Fort. This fort, which dates back to the middle of the 15th century was once the residence of eMaharaja of Jospur, towers more than 120 metres (395 feet) above the city and remains one of the largest in all of India.