Harare Cheapest Fares
To search and book flights to Harare in 2020 and 2021, please enter your requirements and click the search button above.
Indulge in the International Arts Festival in Harare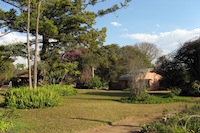 Treat yourself to an exotic destination this year with a trip to Harare, Zimbabwe. This lively city will have you shopping in high-end commercial centres and making deals with vendors along its bustling streets. Harare is a unique place of active motorists, pedestrians and bicyclists, complimented with a spectacular landscape and lush gardens.
Set deep in Africa, the culture of Harare can be seen everywhere in the form of local art, music and architecture. It is also a modern city that offers distinctive coffee shops and street side internet cafés. For an afternoon rest, head over to the Harare Gardens, which are officially known as the National Botanic Gardens. The garden area is made up of more than 170 acres of flowers, shrubs, trees and wildlife and is the perfect spot to relax and take in the natural surroundings.
If you admire African art, then it makes sense that Harare would be your next destination choice. The National Gallery of Zimbabwe houses the most spectacular pieces of African art the country has. From time to time, the pieces are refreshed and rotated with other works from around the country.
The Harare International Festival of the Arts (HIFA) is one of Africa's most significant annual events. This six day international festival is a way for Harare to proudly display the very best of its regional arts and culture. The event is made up of visual arts, street performances, theatre, dance, music and readings about Zimbabwe.