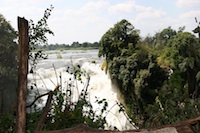 Book cheap flights to Zimbabwe by selecting an airport destination in Zimbabwe below. Compare flights to Zimbabwe from over a hundred airlines worldwide and book online with us today.
The Republic of Zimbabwe is located in the southern part of the African continent, between the Limpopo and Zambezi rivers. Mozambique, Zambia, Botswana, and South Africa are neighbouring countries that immediately border the country.
Harare is the largest city in this country, and is its capital. Originally known as Salisbury, Harare is the epitome of a modern city, with a focus on trade. It is also home to the University of Zimbabwe, in its suburb of Mount Pleasant, 5 km away from the city centre. Bulawayo is known as the City of Kings, and is the second largest city.
Harare International Airport is the major airport in Zimbabwe, focused on international travel. Once there, tourists can travel around by rail, car, bus or taxi. The Blue Arrow bus system offers comfortable travel between major cities, and taxi drivers are eager to take tourists where they want to go.
The Robert McIlwaine Recreational Park is a major tourist attraction, with its lake and game reserve, situated within the same city as clean, pristine and modern buildings, and flowering trees. The second largest city, Bulawayo, is home of the National Museum and at same time hosts the age-old Khami ruins. You van also visit the Great Zimbabwe National Monument, a World Heritage site in Masvingo. Victoria Falls on the Zambezi River are shared with Zambia, in the northwest.
Mining and exportation of mineral deposits, including gold, platinum, iron ore, and diamonds comprise this country's major industry.