Victoria Falls Cheapest Fares
To search and book flights to Victoria Falls in 2020 and 2021, please enter your requirements and click the search button above.
The largest waterfalls in the world in Zimbabwe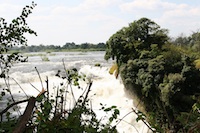 The Victoria Falls are the world's largest waterfalls, and are the most popular tourist destination in Zimbabwe. Two national parks flank the falls, protecting the landscapes and wildlife. Mosi-oa-Tunya National Park is the larger of the two parks at 66km, with Zambezi National Park on the southern bank at 40km.
Wildlife can move between the two parks as well as into other nearby parks, namely Matetsi Safari Area, Hwange National Park, and Kazuma Pan National Park. Fences have been erected on the outskirts of the town of Livingstone to keep the animals within Mosi-oa-Tunya National Park. Wildlife includes buffalo, elephant, giraffe, antelope varieties, zebra, lion and leopard. Lions and leopards are, however, rarely seen.
David Livingstone arrived at Victoria Falls in 1855 for the first time. His recording in a journal said the place was beautiful and a location where angels first gazed. Livingstone named the falls after Queen Victoria despite the locals name of Mosi-oa-Tunya. This means "The Smoke that Thunders." Technically, the falls are between Zimbabwe and Zambia, thus creating a natural border.
The Victoria Falls are 108m tall and 1,708m long and made up of seven gorges. The First Gorge is the main one where the river begins to fall into Victoria Falls. The Second Gorge is most popular among tourists for the Falls Bridge that is 2.15km long. Batoka Gorge is known for its basalt plateau and Lake Kariba Valley provides boating and hiking for holiday seekers.