Livingstone Cheapest Fares
To search and book flights to Livingstone in 2020 and 2021, please enter your requirements and click the search button above.
Livingstone Festival, Zambia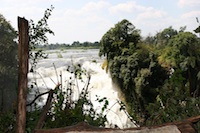 The Livingstone Festival in Zambia was first held in 1994 and generally takes place in the month of August each year. It is the largest and most famous festival in Zambia. The festival displays Zambian talent in all artistic areas as well as acts from abroad.
Livingstone, also known as the adrenalin capital of Southern Africa, is currently the capital city of Southern Zambia. It is in this historic city that the Livingstone Festival is held. The festival, which is held each year, displays Zambian talent in many art forms. The cultural celebration strives to import famous acts from abroad, making it an event that tourists make a point of witnessing on their travels to Zambia.
During the festival, performing artists, theatrical groups, clowns, jugglers, and music groups all congregate at the festival site, which is in an outdoor performance venue set in a woodland of mopane. This is situated a few kilometres outside of the famous Victoria Falls. This prime location makes the festival even more popular as it is a well-known tourist hot spot. Throughout the festival, there is also live music on offer. Performances include musical genres with a variety ranging from blues, rumba, and reggae rhythms to a capella vocalists.
The primary aim of the festival is to draw attention to the massive AIDS epidemic currently facing the population of the African continent. There are lectures and discussions about AIDS which are held at the event to help educate the public about the disease.