Lusaka Cheapest Fares
To search and book flights to Lusaka in 2022, please enter your requirements and click the search button above.
Lusaka – The Gateway to an African Adventure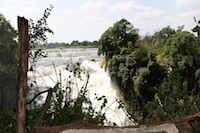 The rugged interior of Africa is home to the wildest wildlife and is unspoilt by tourism. Visitors who enjoy adrenaline sports can now push themselves to their limits with a series of extreme challenges that take place in the shadow of the largest waterfall in the world.
Lusaka, the capital city of Zambia, is a destination now served by daily flights from Manchester and London Heathrow, which make use of a connecting flight from Nairobi. Zambia is a playground for tourists who enjoy wildlife and adrenaline-fuelled adventures. The country shares a number of major tourist attractions, such as Victoria Falls and the Lower Zambezi National Park, with neighbouring Zimbabwe.
Tourists who enjoy extreme adventures may be interested in the trio of events on the Zambian sports calendar. The Victoria Falls International Marathon and Half Marathon is one of the most picturesque running events in the world, which travels along the Zambezi river and through the National Park near to Victoria Falls.
If running 26 miles is not enough of a challenge, then super-fit athletes can attempt the three-day long 'Zambezi Man', which combines 50 kilometres of white-water rafting on the Zambezi river, a 100-kilometre mountain bike race and culminates with entrants running the marathon. In contrast, the mere 300-kilometre 'Victoria Falls Mountain Bike Challenge' allows competitors three days to complete the route.
English is the official language of Lusaka which will be a comfort to some travellers and will surely encourage the less adventurous tourist to explore this extraordinary destination in Africa.