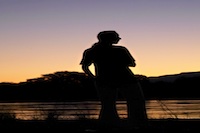 Book cheap flights to Zambia by selecting an airport destination in Zambia below. Compare flights to Zambia from over a hundred airlines worldwide and book online with us today.
The Republic of Zambia is located in Southern Africa, and is bordered by countries Angola, Botswana, Nambia, Zimbabwe, Mozambique and Angola. Its capital is Lusaka, in the south-central part of the country. Most of the countries population is in Lusaka, the capital, as well as in the Copperbelt region which is in the northwest of the country. Its climate is largely tropical, with cooler temperatures in the highlands.
Lusaka International Airport is the largest and most important airport in the country, offering international travel.
Lusaka is the major city here, but Livingstone is also a major tourist attraction, particularly Victoria Falls. Livingstone itself remains a small, quaint town, a throwback to earlier days and quieter times.
In Zambia, you can go on many different types of safari, whether they be walking safaris, open vehicle safaris or riding safaris, to name just a few. Tourists can even take part by riding horses or elephants! The country also offers opportunities for water sports, like white-water rafting, bungee jumping and other adventures for those with a taste for the out of the ordinary. This is something truly for the adventurous spirit and those loving the out-doors.
One of the major industries is copper mining, with agriculture also an important player in the country's economy, comprising about 20% of industry. Corn is the main cash crop, but soybeans, tobacco, and cotton, as just some examples, also have a significant impact on the economy.