Bulawayo Cheapest Fares
To search and book flights to Bulawayo in 2020 and 2021, please enter your requirements and click the search button above.
Bulawayo Offers a Fantastic Holiday Experience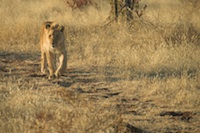 Bulawayo has a calm, serene feel to it with its beautiful parks, tree-lined streets and dozens of buildings from an era gone by. Travellers looking for a holiday where they can explore and discover new things should consider Bulawayo as their next destination.
Bulawayo is a city of the arts, hosting the National Art Gallery, a beautiful colonial-era building. This museum exhibits arts from all over Zimbabwe, including Zimbabwean sculptures and paintings. Travellers can have a look at artists at work in the museum itself, which also hosts studios where artists go around doing their work. Bulawayo is also home to the Amakhosi Theatre, a renowned theatre where groups perform all year round.
The southern part of Africa is known for its amazing natural sights, and the area around Bulawayo has lots of natural sights as well, most notably the Matobo National Park. Matobo National Park is one of Zimbabwe's most famous attractions, featuring extensive granite hills and wide, wooded valleys. Here, visitors can do a lot of things, including taking a safari tour around the park where they will get to see the diverse and interesting wildlife, such as greater antelopes and leopards. Granite rock formations are all over, one of the most famous formations being the "Mother and Child kopje", which is a granite formation resembling a mother carrying a child. Visitors will be mesmerised by the wildlife and unique scenery found within the national park – some even camp overnight!
Although not known to many as a holiday destination, Bulawayo has many sights worth seeing and should be considered by travellers.