Jakarta Cheapest Fares
To search and book flights to Jakarta in 2022 and 2023, please enter your requirements and click the search button above.
Go fly a kite in Jakarta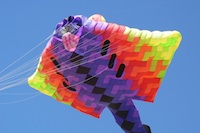 This incredible part of the world is comprised of more than 6,000 islands which means if you've chosen Jakarta as your next destination, you will no doubt be arriving by air. With so many available flights, getting to Jakarta Soekarno-Hatta International Airport should be very easy.
Jakarta is Indonesia's most influential city, with relation to politics and government. It is also home to some of the country's most noted monuments that include The Jakarta History Museum in the old Batavia Town Hall, which was once the city's courthouse and main prison. The country's National Monument is also in Jakarta in Merdeka Square. Along with several other monuments, this is a good place to walk at your own pace to look at the pieces.
A feature very unique to Jakarta is Sunda Kelapa, the city's main port. This is a peaceful place to relax tired feet, as you watch sailing ships quietly pass by. There are also many large ships anchored in the harbour that are worth taking a look at up close.
Aside from local attractions, Jakarta enjoys festivals all year round. During the month of May, Jakarta is an ideal destination choice for those seeking dance, as the city puts on its annual Indo Dance Festival. In June, Jakarta adds the Jakarta Fair to the list of events, with a seven-week long festival of traditional music and dancing. For the big kid in you, grab a kite and take part in the annual Kite Festival that happens each July.