Surabaya Cheapest Fares
To search and book flights to Surabaya in 2020 and 2021, please enter your requirements and click the search button above.
Surabaya commemorates its history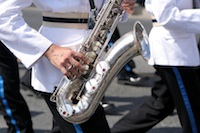 The Surabaya Culture Parade is a celebration of this city's rich cultural heritage. It is held every year in this destination and various performances are used to reflect what the region has to offer in terms of its history and customs.
The festival takes place from May until June with the actual anniversary being on the 31st of May. There are a number of events including performing arts, art exhibitions, marching bands and dancing troops. There is a main parade, for which the route is different each year, and various Surabaya culture take part, each displaying their own melody and rhythm.
Approximately 70 participants take part in the parade, originating from a range of institutions, from offices and private companies to schools and universities. Other festivities take place before the main parade in the form of music and dance.
Each municipal destination of the city holds its own unique celebrations, for example in the form of competitions, shopping festivals, cycling parades and fun walks. Visitors can experience the lively spirit of the region as well as enjoy the hot weather.
Surbaya is the second biggest city in Indonesia, after Jakarta. It is known by the locals as 'the city of heroes' because of its part during the Battle of Surabaya. It galvanised international as well as Indonesian support towards giving Indonesia independence while the Indonesian National Revolution was taking place. The Surabaya Culture Parade is a great representation of the proud spirit people have towards their city.