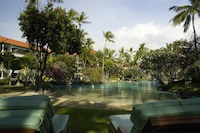 Book cheap flights to Indonesia by selecting an airport destination in Indonesia below. Compare flights to Indonesia from over a hundred airlines worldwide and book online with us today.
The nation of Indonesia is made up of an archipelago that is found in both the Indian and Pacific Oceans. It is spread over a broad area that borders many different countries, including Malaysia, Australia, and the Philippines. At present, it is the most densely-populated archipelago in the world.
Its capital and largest city is Jakarta, which sees a large amount of tourism. The second-largest city is Bandung, which is located on the island of Java. Bandung is located in a highland area that sees cooler temperatures.
There are four international airports found throughout the country. They offer easy entry from many Asian locations, including Singapore. Banten Airport is located closest to the capital, but Soekarno-Hatta in Tangerang is the largest.
Some of the most popular attractions in Indonesia are connected with nature. The tropical rainforests are home to fascinating wildlife that includes tropical bird species and orang-utans, as well as endangered tigers and rhinos. Ujung Kulon National Park, located in West Java, is one of the best places to see wildlife. If you get a chance, you should see Komodo Island, which is the home of the Komodo Lizard Dragon. There are also close to 200 active volcanoes, including Mt. Batur in Bali. You can also see a permanent glacier in Papua.
Most of the country's economy comes from the industrial sector. Some of the goods that companies in the country have manufactured include household goods and electronics. The country also produces large amounts of oil, gas, and rubber.