Jakarta Cheapest Fares
To search and book flights to Jakarta in 2020 and 2021, please enter your requirements and click the search button above.
The Jakarta International Jazz Festival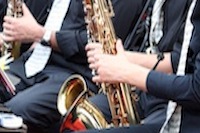 This modern travel destination is ideal for those seeking a cosmopolitan getaway, a historical holiday, or a cultural lesson on Indonesia. With its Dutch colonial background, this wondrous city has a lot to offer the curious tourist.
There are many tourist attractions worth seeing such as the Taman Mini Indonesia Indah, which is a way to view the entire archipelago while remaining on the island of Java. There is also the Ancol Dreamland, which is a favourite choice for families. This extremely popular amusement park is ideal for all ages and all walks of life and includes a variety of rides and family attractions as well as steam baths, massage centres, and late night entertainment clubs. It is the largest amusement park in Indonesia.
The Jakarta Planetarium is also an essential attraction. This is where visitors can view the wide collection of modern museum exhibits and explore the building that incorporates the latest in state-of-the-art technology. For something a little more rounded, take in a cultural tour. This is the perfect way to admire key attractions with a tour guide on the theme of your choice.
For a Jakarta destination, there are also many festivities and events to take into consideration. The Jakarta International Jazz Festival, called Jak Jazz, includes artists from Indonesia as well as from around the world. The Jak-Japan Matsure is a large art and cultural exhibition and another popular event that draws crowds to the area.