Muscat Cheapest Fares
The lowest fare found to Muscat (MCT) was £344 with British Airways. The fares shown here are the lowest flight prices to Muscat obtained in actual searches by Just The Flight customers. To search and book flights to Muscat in 2022, please enter your requirements and click the search button above.
Muscat is a Cultural Capital of the Arab World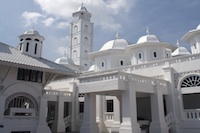 Any traveller who thinks they have hit every major seaside town worth visiting may need to think again. The beautiful city of Muscat, which lies along the Gulf of Oman, is a city of enchanting views and famous sites.
For those who are looking to make Muscat a holiday destination choice, it is advisable to check for flights during the spring and fall months when the summer heat and humidity is not at its peak. This will make seeing the whitewashed mosques, residential buildings and historical sites a more pleasant experience.
One of the most popular sites in the city is the Grand Al-Alam Palace, which belongs to the Sultan of Oman. While it is still used for some ceremonies, it is open to the public and offers an amazing view of the harbour.
One of the most unique attractions Muscat has to offer lies in an area known as Muttruh. Within this district visitors will find the Corniche to be the highlight, and hiding behind this great building is one of the most amazing markets to be found anywhere in the world. It is not a traditionally organized market but instead winds through a maze of narrow alleyways and streets offering a truly unique cultural as well as shopping experience.
Muscat is known as one of the cultural capitals of the Arabic world. Each year the city hosts the most significant festival of the year, the Muscat Festival. This month-long festival begins in January and celebrates the country's culture and heritage.