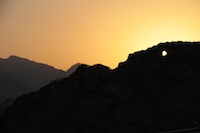 Book cheap flights to Oman by selecting an airport destination in Oman below. Compare flights to Oman from over a hundred airlines worldwide and book online with us today.
Oman is one of the most accessible and easiest places to visit on the Arabian Peninsula, while also boasting a varied landscape littered with attractions and historical sights.
It borders Saudi Arabia, Yemen and the United Arab Emirates with the Arabian Sea running alongside the east of the country. There are international airports in both Muscat and Salalah in the south of the country.
The capital of Muscat in the north-east of the country is a lovely port city with a beautiful bay and great souqs. The inland town of Nizwa is also worth a visit to soak up the atmosphere of a traditional Arabian town while weaving your way through its large souq. There is so much to be seen outside the cities and towns of Oban.
The country has some beautiful unspoilt beaches on offer, including Yitti with its mountainous backdrop and Masirah where you can enjoy a bit of flamingo spotting. And if you want to escape to the desert there are camels and four wheel drive trucks available to take you out to Wahiba Sands.
Often described as Oman's most picturesque and beautiful route is the road from Al-Hamra to Wadi Bani Awf, which will take you over the Hajar Mountains.
Oman has heavily relied on its oil reserves in the past for economic development but these days the Government is focusing on non-oil industries to further develop the country including tourism and the gas-based sector.