Peshawar Cheapest Fares
To search and book flights to Peshawar in 2022, please enter your requirements and click the search button above.
The Old City of Peshawar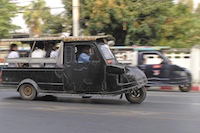 Peshawar is relatively prosperous frontier town in Pakistan, and this destination is generally characterised by three words: intrigue, romance and danger, at least in novels. Peshawar is an important town for trading located at the beginning of the Khyber Pass. Travellers to Peshawar can enjoy bazaars, the old city, and British architecture during their visit.
The city is a myriad of entertainment almost every day due to the bazaars. On any given day, there is an endless parade of people, mostly male, moving through the merchant booths. The streets will be filled with rickshaws, the smell of kebabs, and eager boys running between the mass of people. Green tea is a stable of the bazaars, in which the tea is dispensed in small enamelled pots. On Chowk Yadgar there is the Jeweller's Bazaar just past Mahabat Khan Mosque, and Afghan rug shops. It is a place to find antiques and bargains.
The old is balanced with the new in Old City where more auto-rickshaws are used rather than camels. Mobile phones are used everywhere, in spite of the tangible ties to the past. The juxtaposition of old and new presents a fusion of cultures that is enough in itself for the enjoyment of Peshawar by tourists.
Moving away from Old City, visitors can locate the British cantonment. British style churches, shaded boulevards, lavish homes hidden behind walls and army quarters welcome holidaymakers in this area. Here visitors will not find a multitude of people, but British tea in the afternoons.