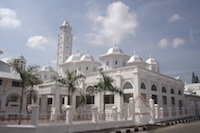 Book cheap flights to Pakistan by selecting an airport destination in Pakistan below. Compare flights to Pakistan from over a hundred airlines worldwide and book online with us today.
Nestled between India and Afghanistan, Pakistan is a great choice for a traveller who wants to get off the beaten track. With ruined cities, beautiful mosques, stunning scenery in the Himalayas and a society and culture hidden from the western world, it makes it a unique destination.
You can fly straight into Pakistan's capital of Islamabad at the Benazir Bhutto International Airport and there is also a large airport in the south – Jinnah International Airport in Karachi.
There are some beautiful sights to be seen in the capital including the Faisal Masjid – which boasts an awe-inspiring courtyard with room for 300,000 people. Wandering around the streets of Islamabad you will find captivating Islamic culture – and you can marvel at some of the lavishly decorated buses that line the streets. Lahore and Multan, south of the city, are worth a visit. In Lahore see the singers of qawwali (Sufi devotional music) at the Data Darbar and visit the Lahore Fort, while Multan offers some of the finest Sufi shrines and historical monuments.
If you have time to take in a cricket match during your visit head to Karachi's National stadium and if you fancy some shopping time, get lost in the bazaars of Hyderabad in the south.
Textiles remain the largest industry in Pakistan, which accounts for its main export earnings, while 43% of the population work in agriculture.
It is a country to visit at any time of the year as the north is best between May and October, and the south is best from November to April.