Djibouti Cheapest Fares
The lowest fare found to Djibouti (JIB) was £638 with Ethiopian Airlines. The fares shown here are the lowest flight prices to Djibouti obtained in actual searches by Just The Flight customers. To search and book flights to Djibouti in 2020 and 2021, please enter your requirements and click the search button above.
Eastern Africa's Djibouti is a once in a lifetime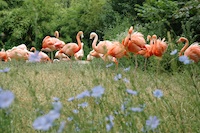 For a once in a lifetime holiday, make your next destination Djibouti. It is located in eastern Africa and shares its borders with the countries of Ethiopia, Eritrea, and Somalia and rests along the Red Sea and Gulf of Aden.
The people of Djibouti enjoy celebrating with grand festivals. Some of the most celebrated are Christmas, which is held in early January, and Ramadan, as well as the country's own Independence Day, which is in June. With each festival comes an official public holiday, allowing everyone to participate.
Flights will take you into the capital city Djibouti, which also just happens to be the only city. Its port district and lively market make it a cosmopolitan capital. It has all the modern facilities you might expect such as sophisticated shopping centres, upmarket restaurants and a vibrant nightlife.
Most people who make Djibouti their destination do so for its unspoilt nature and relaxing environment. Around the area are many sights such as Lac Assal, which is a massive crater lake that is surrounded by several dormant volcanoes. There are also many wildlife parks and numerous areas for snorkelling and scuba diving.
Other nearby attractions that should not be missed are the white sandy beaches in the nearby coastal town of Tadjoura or take a day trip into Ethiopia to enjoy the wonders of Lac Abbe. This marvellous natural wonder of limestone chimneys and hot mineral pools adorned with pink flamingos is certain to leave a lasting impression.