Exhilarating Camel Racing in Riyadh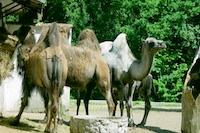 With more than 2,000 riders participating in this exciting event, run over approximately 20 km, the annual King's Cup Camel Race is certainly a spectacle not to be missed in the Saudi Arabian destination of Riyadh.
This breath-taking, annual sporting event is enjoyed by locals as well as tourists and marks the start of the Janadriyah Festival, the oldest and most traditional of the festivals held in Riyadh; the festival is usually held each year in the month of February.
Amazingly, most of the participants riding in this camel race are youngsters, and it is clear to see that thorough training has been completed by the boys during their childhood simply by watching how they handle the camels. The stakes are high, with a purse of hundreds of thousands of dollars to be won, and the exhilarating event can draw crowds of 20,000 to 30,000 spectators.
Originally run in the mid 1970s, this spectacular race is held just outside of the city of Riyadh in Janadriyah, which is located conveniently close to the Riyadh King Khaled International Airport, the gateway to this destination.
The Janadriyah Festival is a colourful and vibrant festival and with its blend of the arts, culture and sport, it is considered to be one of the most important festivals held in the Arab world. There are many entertaining performances of poetry, music and dance, as well exhibitions of traditional crafts and feasts of local delicacies to be enjoyed.