Cheap Flights to Phnom Penh (PNH) from UK Airports
Book flights to Phnom Penh
Phnom Penh Cheapest Fares
To search and book flights to Phnom Penh in 2022, please enter your requirements and click the search button above.
Phnom Penh Water Festival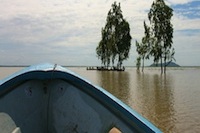 Phnom Penh is the largest city destination in the Southeast Asian nation of Cambodia, as well as its capital. Its location on the banks of the Mekong River makes it the perfect location for the celebration of the annual festival of Bon Om Tuk, which translates to mean the 'festival of the reversing current'. The purpose of the festival is both to mark the beginning of each year's fishing season and to celebrate the importance of marine life to the history and customs of Cambodia in general and Phnom Penh in particular.
The Bon Om Tuk is an ancient festival with traditions dating back for many hundreds of years. Tourists who attend may feel that they have stepped back in time into the pre-colonial past of this nation, which was long dominated by French imperialism. Celebrating the rivers that criss-cross the city and give it much of its unique character, the festival includes events such as a boat race that traverses the entire nation of Cambodia. Another integral facet of the event is a fireworks show.
Taking place every November, the Water Festival is only one of several annual attractions that draw tourists to the destination of Cambodia. Visitors taking flights here in May can see the Royal Rice Ploughing Ceremony, another traditional festival which imparts the true flavour of Cambodia to tourists. Both of these festivals draw guests from the UK and around the world.